Nov 21, 2022
Listen to 7 Best Mutual Funds to Invest in 2023 – Top Performing Mutual Funds in India
We are nearing the end of the calendar year 2022, and it is time to welcome 2023. And what better way to welcome the new year by securing your financial future through investments in some of the best mutual funds!
What are equity mutual funds?
Equity mutual funds are schemes that invest predominantly in equities i.e. shares of companies. These schemes invest money pooled from multiple investors in different stocks across sectors with an aim to generate capital appreciation and enable wealth creation. Equity mutual funds have the potential to generate high returns over the long term.
How certain sub-categories of equity mutual fund schemes performed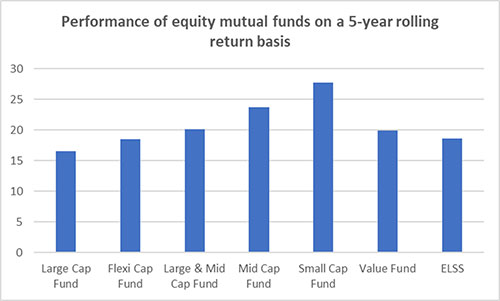 Data as of November 18, 2022

Category average returns considered using Direct plan – Growth option. Past performance is not an indicator of future returns.

(Source: ACE MF, PersonalFN Research)
At PersonalFN, we have curated a list of 7 best performing equity mutual funds to invest in 2023. But before we reveal the list, here is how the equity market behaved in 2022…
The year 2022 began with major equity indices showing sharp consolidation from their lifetime highs on the back of the fast-spreading Omicron variant of COVID-19, followed by the war in Ukraine. The economic uncertainties and inflationary pressures caused by these two factors, along with fears of global recession, caused foreign investors to shy away from investing in Indian…
Read complete post here:
Source link