Q3 recap and investment thesis
Alibaba (NYSE:BABA) just released its Q3 2022 earnings report ("ER"). Note that its fiscal quarter is shifted from the calendar quarter (so it is its FY Q2). And in the remainder of this article, I will refer to the calendar quarter consistently. By this time, many of the aspects of its Q3 ER have been detailed by other SA authors already. As a result, I will only provide a brief recap of its Q3 results. Then I will quickly zoom in on three things that are less discussed so far in other SA articles.
Overall, I view the results as solid, especially considering the challenging operating environments in the past quarter. Its Non-GAAP EPS (referred to on a per ADS basis hereafter) dialed in at $1.82, exceeding consensus estimates by $0.17. Topline came in at $29.12B, representing a +3.0% YoY growth but missing consensus estimates slightly by $490M (about 1.6% on a relative basis). Notably, its cloud segment grew 4% YOY and now represents 10% of the total revenue.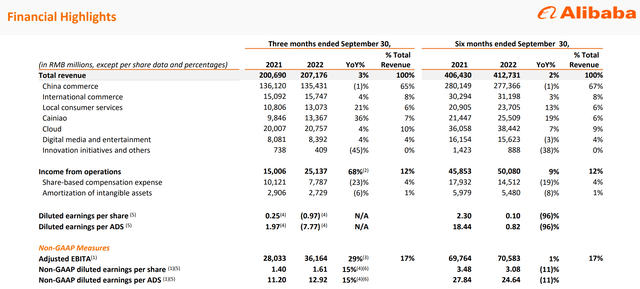 The remainder of this article will concentrate on 3 things from its Q3 ER that are less discussed in other articles. Firstly, I will examine its profitability as measured by ROCE (return on capital employed). You will see that its profitability indeed has suffered strong headwinds due to ongoing macro challenges, but still remains at a highly competitive level even when benchmarked against the FAAMG group. Secondly, I will examine its capital allocation. And the picture is similar here. Admittedly, it simply does not enjoy the flexibility it used to even compared to the beginning of the year. But overall, it is still in a strong financial position and can sustainably fund its various growth initiatives. And finally, the valuation is too compressed to ignore in my view.
Before we dive in, note that the Daily Journal Corp. recently also disclosed its 13F filing. And as shown in the chart below, Alibaba remains as the 3rd largest position, representing 14.6% of its equity…
Read complete post here:
Source link