This article was published on Dividend Kings on Wednesday, Jan. 4, 2023.
Lottery fever is sweeping the nation yet again. In the last few days, 250 million Megamillions tickets were sold, about one for every adult in the US.
And why not?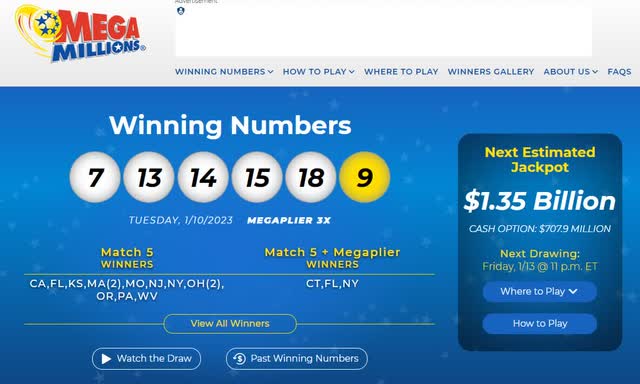 People are dreaming of becoming overnight billionaires with almost $1.5 billion on offer.
But before you get too swept up in the mania, let me remind you of three important facts.
3 Critical Things To Know About This Billion-Dollar Jackpot
First, I must admit that anytime the jackpot goes above $1 billion, I buy one ticket, no more, no less.
The reason is simple. If I buy no tickets, my odds of winning are zero. If I buy one ticket, the odds are one in 303 million. That's infinitely better than zero, and my family gets to spend a few days dreaming about what each of us would do with our $300,000 year-one payday (more on this later).
Why not buy two tickets? Or three? Because 2/303 million odds are effectively the same as 1/303 million, the marginal benefit is half as large.
In other words, buying two tickets, or even 20, won't let my family dream of what we'd do with our riches any more than one.
But does it ever actually make sense, mathematically speaking, to play the lottery? Nope.
It's Math: Why You Should Never Play The Lottery
You might think that if the jackpot gets big enough, such as over $303 million, then it makes statistical sense to buy a ticket. While there are emotional reasons to do so, as I do, the math is very clear.
The famous saying "the lottery is a tax on those who can't do math" is accurate.
For the sake of an example, if all 320 million people in the United States buy a single random ticket, the probability that at least one person wins is about 66.6%. "That 'at least' part is key, though," Dreyer says. "The probability that exactly one person wins is 36.6%. That means that 45% of the time if you win, you're splitting the jackpot with at least one other person. … Presumably, the…
Read complete post here:
Source link