The Lipper General U.S. Treasury Funds classification consists of funds that invest primarily in U.S. Treasury bills, notes, and bonds. The funds within this classification had an average duration of 12.2 years as of December 2021.
Compared to other major fixed income indices like the Bloomberg Municipal Bond Total Return Index (-8.8%) and the Bloomberg U.S. Aggregate Bond Total Return Index (-9.5%), Lipper General U.S. Treasury Funds have posted a very underwhelming year-to-date performance through April month end of negative 13.3%.
Despite the poor comparative performance, the classification led the way this past fund flows week, attracting $3.0 billion. Lipper General U.S. Treasury Funds have also been red hot since the start of the year, pulling in $21.4 billion, making them the third most popular Lipper classification in that span – behind only Lipper International Income Funds (+$33.4 billion) and Lipper Loan Participation Funds (+$25.2 billion). Lipper General U.S. Treasury Funds also set a quarterly intake record during the fourth quarter of 2021 as they reported inflows of $13.9 billion.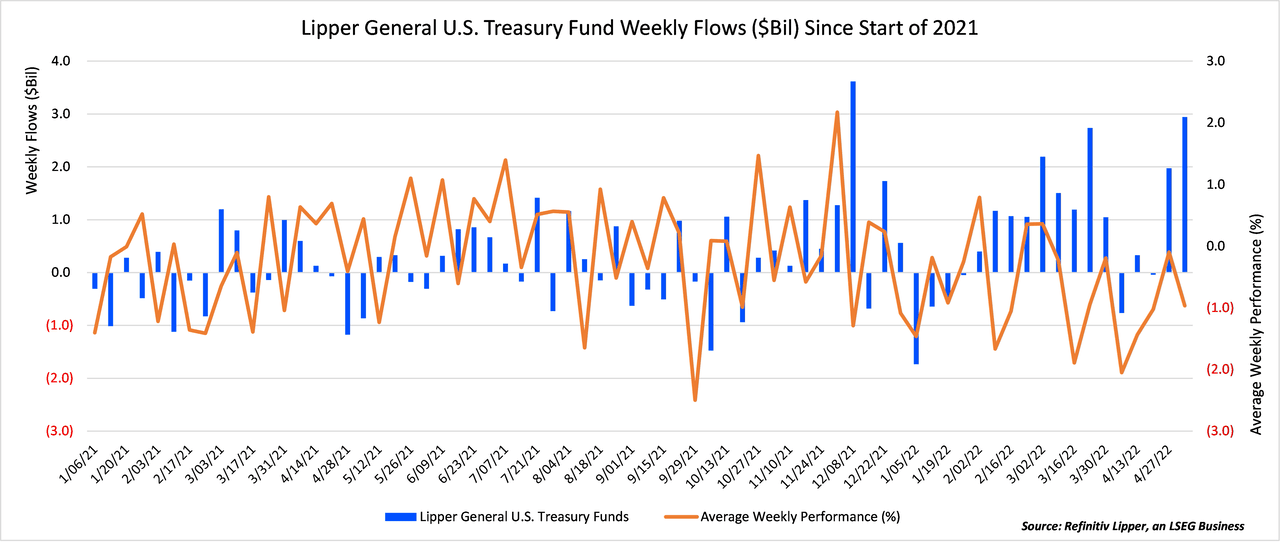 Wednesday, May 4, the Federal Reserve policymakers decided they will raise rates by 50 basis points (bps) for the first time in more than 20 years. While the significant hike was largely expected, Federal Reserve Chair Jerome Powell noted that bigger moves were not in the Fed's future plans. It is still forecasted, however, that the Fed will raise rates during each of its remaining meetings this year.
With the poor performance of longer-dated Treasury bonds already realized through April, inflationary fears growing, and the current rising rates environment in place, the question stands: Why have longer-dated U.S. Treasury Funds attracted so much capital this week and this year?
To get the answer we may need to take a step back. Equity markets year-to-date through…
Read complete post here:
Source link